I have expensive taste, ok? REAL EXPENSIVE. Not like mansion in LA expensive, but like
CASTLE IN FREAKING FRANCE
expensive. And it is downright frustrating to be such a poor pauper with such expensive taste. It's like a joke....a really bad,
mean
joke.
In another life, I would whip out a bag of gold coins and buy these heartbreakingly beautiful chairs. My servants would load them onto the backs of my fleet of royal unicorns, and back to the castle we would go to find King Dan swan diving into a silo full of gold coins, just like Scrooge McDuck on Duck Tails. And we'd all live happily ever freaking after.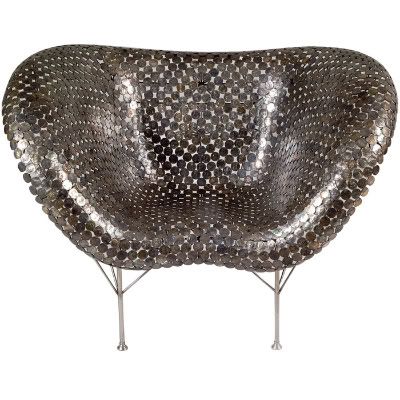 Coin Chair by Johnny Swing, $59,000.

Item description: Performance art in a chair: Hand-welded in the curvaceous shape of a butterfly, amassed from 1500 half dollar coins and 7000 welds. Stainless steel and half-dollar pieces. The contoured shape is designed to cradle the body.

This would obviously go in the modern art wing of the castle and, actually, I'll probably need two of these, you know: for feng shui, bringing the total, so far, to $118,000.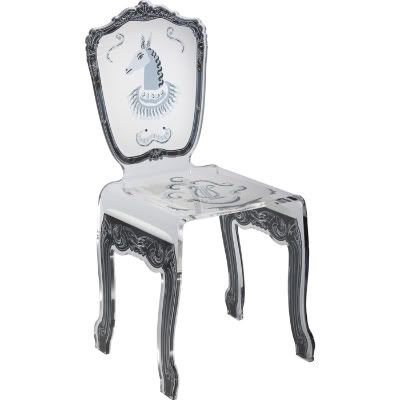 Lucite Chair by Suzanne Fellman, $2,500.

This is the most beautiful piece of art I have ever seen in my entire life. I have a major thing for lucite...

Item description: Bloomsbury Group redux: Expand your inner horizons with this elegant, whimsical Rococo-style chair, astonishingly executed in Lucite. Made in France, this special collaboration with Celia Birtwell features the British fashion and textile legend's romantic "Orphee" pattern screened on its back and seat.

Since I'll obviously have one of those incredibly long Last Supper style tables in my castle, I'm going to need at least 20 of these. To start. That's... hmmmm... $50,000.

Grand total: $168,000.

Yeeeesh. I'd better get rich (understatement) soon or I am destined to a lifetime of disappointment and cheap chairs... OH, THE HORROR!!


xoxo
-Desiree